Approved Provider - Florida Virtual Instruction Resources
Disclosure Requirements
Information and data about the curriculum of each full-time and part-time program. Please include, at minimum, the source or origin of curriculum and course content, specific research and best practice used in design, the basis for and frequency of revisions, research related to effectiveness of curriculum, evidence that content and assessments are accurate and free of bias, accessibility for students with disabilities, availability of multi-lingual materials, NCAA approval status for each applicable high school course offered.
Origins & Design
PLATO Learning's origins lie at University of Illinois in the early 1960s. PLATO (Programmed Logic for Automated Teaching Operations) was an answer to a pressing need for greater access to high-quality education. Initially funded by a number of grants that supported science and engineering education, including a National Science Foundation grant, PLATO became the first computer-assisted learning system.
During the early years, PLATO system designers committed to addressing those attributes that today are still critical to PLATO Learning's online development:
engaging graphics and animation
social learning technologies to support teacher/student interaction
rigorous curriculum and assessment components
personalized learning strategies designed to increase motivation and achievement
Early on, learners accessed PLATO through stand-alone computer systems. Today, PLATO Learning provides access to high-quality education anytime and from anywhere through rigorous, Web-based course offerings. The timeline below highlights important milestones in PLATO Learning's development over the past five decades.
1960—The PLATO system is developed at the University of Illinois at Urbana-Champaign.
1967—The National Science Foundation awards a grant to support PLATO system expansion to 150 terminals with text, graphics, animation, and data sharing at a cost of $12,000 each.
1969—The Internet is founded.
1971—PLATO courseware is introduced; an expanded set of curriculum offerings for K-adult learners is developed.
1971-2000—Increased access to technology to support instruction at all grade levels corresponds with expanded use of PLATO by thousands of learners worldwide on individual computer terminals and local area networks.
1994—The first postsecondary-level online learning programs are introduced.
2000-2003—Mergers with multiple companies leads to the introduction of PLATO to online learners via the PLATO Learning Network™ (PLN™). This system integrates the nation's largest standards-based alignment engine with management system technologies and expanded course offerings that are particularly focused on math, science, and literacy instruction. PLATO Learning later introduces the PLATO Web Learning Network™ (PWLN™), which leverages a Web-based platform that allows schools to extend courseware delivery beyond LAN/WAN system management.
2006—The PLATO Learning Environment™ (PLE™) debuts. This online learning platform provides integrated data, assessment, reporting, curriculum, and course management features to support school and district online learning programs
2007-Present—PLATO Learning developers expand online platform features and rigorous online course offerings in mathematics, science, social studies and English/ language arts, including AP* courses. In addition, PLATO Learning continues to develop online learning technologies that include student/teacher communications, reporting and data features, and course management options that provide more personalized learning options and effective support of online course delivery. In 2010, as PLATO Learning celebrated its 50th anniversary, more than 1.5 million educators and students have daily access to PLATO courses.
PLATO Learning courses are developed using rigorous state and national standards, including those from the National Council of Teachers of Mathematics (NCTM), the National Council of Teachers of English (NCTE), and the Thomas B. Fordham Foundation index of A-rated states. Throughout its history, PLATO Learning has used a mastery-based model to build the content at the heart of its courses and curriculum. PLATO Learning provides semester-long courses on a range of core and elective subjects. Developers start with a curriculum structure built around discreet learning objectives. Then each learning module, or lesson, is focused on one individual objective. Each module includes an introduction to the new material, a chance to practice or apply new knowledge, and an opportunity to demonstrate mastery of the objective before progressing to the next module. This structure is built into units of related material and includes pretests to assess prior knowledge, as well as posttests and end-of-semester tests to confirm mastery for broader levels of content beyond the lesson.
Each PLATO online course incorporates basic and higher levels of learning within the rigor and relevance dimensions in Dr. Daggett's application model. The following diagram illustrates how PLATO's instructional design applies the rigor/relevance framework and application model to create rigorous 21st century online courses: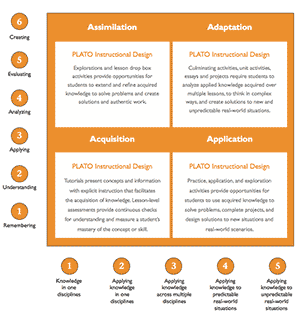 Ongoing Review and Updates
Ongoing evaluations of PLATO Learning products have helped identify key elements that customers appreciate and expect in PLATO's effective, proven online learning solutions. All courses are reviewed and updated on an annual basis. These criteria encompass all of our online learning product requirements for PLATO Learning curriculum:
PLATO courses provide full curriculum coverage, addressing at least 90 percent of standards for each of our defined metric state and national standard sets for core courses or special courses and 100 percent of standards defined by the College Board for AP* courses.
PLATO courses are primarily technology-facilitated, not document-based. They make full use of online learning technology to make learning easier and more valuable for both students and teachers.
From credit recovery to AP*, PLATO courses engage students and make learning relevant to their lives.
PLATO courses enable a single student to learn independently and in a self- paced way. There is no dependence on other students working simultaneously at the same customer site. This independent learning capability is true for credit recovery, first time, and AP* students.
PLATO courses facilitate or suggest creative ways for students who are learning at their own pace to interact with other students, especially in higher-order learning activities.
PLATO courses provide teachers with resources (such as online discussions or blended classroom suggestions) to enhance the basic course interaction and learning.
Whether implemented for independent or class-based learning, PLATO Learning plans for and provides simple guidelines for using courses in a blended model (both face-to-face and virtual) or primarily virtual (with assessment being the primary exception.)
PLATO courses require modest teacher engagement in learning activities. Learning is largely in the student's hands, with guidance from the teacher. PLATO courses automate or simplify a significant portion of student assessment, scoring, recording, and reporting.
Evidence of Effectiveness
PLATO Courses have continuously undergone evaluation studies including numerous reports conducted by outside authorities. Some highlights include:
Conway Public Schools, Conway, AR:  Growth in student achievement between the comparable pretests and posttests ranged from 48 percent to 90 percent, with an average growth of approximately 70 percent in the grade-level subject area tests.
Thompson School District, Loveland, Colorado: Achieved an average 77 percent success rate for dropout retrieval and prevention. In the same time period, 215 students re-entered school and graduated.
Oceanside Unified School District, Oceanside, California: Students completed 5 to 180 credits on average, depending on the circumstances; however, a 30-credit completion rate is the average success for each student enrolled in the program.  ADA increase from 66% to 89%.
Cypress-Fairbanks (Cy-Fair) Independent School District, Houston, Texas:  An independent evaluation firm, conducted a third-party, quasi- experimental study to examine the results of the PLATO implementation.
Students earned, on average, teacher-assigned grades that were17 points higher after retaking the same course using PLATO that they had previously failed.
Of the Cypress-Fairbanks students who failed a course in 2008, and then retook the course in 2009 using PLATO, 84 percent completed and passed the course the second time.
Limited-English Proficient (LEP) students gained even more than did the other students using PLATO (as indicated by teacher-assigned grades) over the two academic years examined in this analysis.
When student improvement was disaggregated by ethnicity, gender, and at- risk classification, all the groups improved their average performance year over year.  The similarity of the gains across the groups suggests that PLATO is able to equally help all students learn across both semesters of the academic year.
Use with students with disabilities and ELL students
PLATO Learning's commitment to our mission statement— Inspired solutions for teaching and learning—requires us to build a wide variety of accommodations into all of our products to serve the needs of learners and educators with disabilities. Academy courses provide many built-in advantages when it comes to helping English Language Learners, learners with disabilities, or those who are performing poorly. Our activities are self-paced, allowing learners to take the time they need and review as often as they like. Every screen is carefully designed for clarity and focus. All instructional sequences are professionally designed, written, and edited for clarity. Audio support provides advantages to all learners. Translation support assists ELL students. Finally, many, many learners find the opportunity to use individualized, computer-based instruction extremely motivating; to the point that even if support for their disability is imperfect, they develop viable compensation strategies in order to keep using it. Development of all courses closely monitors 508 compliance in the areas of language and cognitive accommodations, visual accommodations, auditory accommodations and physical accommodations.
Supporting Documentation:
All school policies and procedures. To address specific questions in this application, please provide policies and procedures related to the following topics in an easy-to-find location on this disclosure website so they can be reviewed: non-sectarian, anti-discrimination, teacher responsibilities, parental responsibilities, teacher-student interaction, teacher-parent interaction, academic integrity, student eligibility, state assessment requirements, attendance and participation requirements.
The following documents provide evidence:
Company Handbook
PVA Policy Handbook
PVA Student and Family Toolkit
PVA Student Policy Guide
Certification status and physical location (state of residence) of all administrative and instructional personnel, to include state certification(s), highly-qualified status, out-of-field, National Board certified, ESOL-endorsed or similar credential in other state, and reading-endorsed or similar credential in other state.
Please see the following document:
Hours and availability of instructional personnel
Office hours: 8 am – 8pm EST
Each individual teacher keeps own office hours
Student-teacher ratios (average by level - elementary, middle, and high - and for core and elective courses).
Adjuncts are limited to an average of 30 – 75 students total across all courses. Teachers with more experience have an opportunity to teach more students (up to 75) and newer teachers will be kept at 30 total students until they are approved to teach more.
Student completions (percent completions and percent successful completions) and promotion rates in total and by subgroup*. Percent Completion – 76.8%*
Percent Successful Completions – 93.9%*
Promotion Rates – Not applicable*
* Since the Academy provides a part-time offering for students and works hand-in-hand with school districts, we track currently track completion data only. However, we have requested program modifications so that moving forward we track demographic data for all students participating in Academy courses.
Student, educator, and school performance accountability outcomes of your virtual program/school. Please include, at minimum, student standardized assessment results in total and by subgroup* (also provide name of assessment) percent of teacher evaluations based on student performance percent of teachers in previous years with satisfactory evaluations teacher/staff turnover rates (new hires divided by total) school grades and AYP other school/program ratings dropout rates graduation rates
Teacher/staff turnover rates (new hires divided by total) school grades and AYP
Turnover Rate 3%
School Grades: Have not been graded
AYP: Not Available
Other school/program ratings
No other ratings
Dropout rates
Overall rate is <1% / No breakdown by subgroups
*Numbers based on full time students seeking an EdOptions Online Academy Diploma
Graduation rates
Overall rate is 98% / No breakdown by subgroups
*Numbers based on full time students seeking an EdOptions Online Academy Diploma
Subgroups to include students from major racial and ethnic groups, economically disadvantaged students, students with disabilities, and students with limited English proficiency.